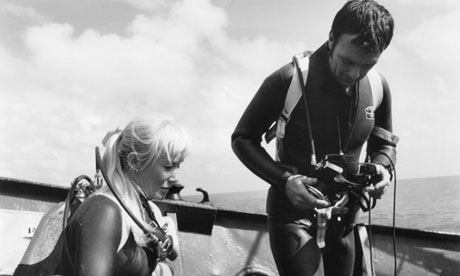 Valerie and Ron Taylor in 1971.
Photograph: Michael Ochs Archives/Getty Images
Many film enthusiasts have seen the exciting shark sequences in Spielberg's celebrated movie Jaws, yet most many not have realised that the man who made them possible has passed away at the age of 78 after battling

myeloid

leukemia for 2 years.
Ron Taylor was his name and the name will always be associated with his successful wildlife film-making career and his involvement in marine conservation. A shark expert and marine biologist, he began his career as a spear fisherman but then changed weapons and started "hunting" marine life with a camera. Since then Ron and his beloved wife Valerie have been advocates of marine conservation. Their impressive work earned them the title of 'gods of the sharks' and both were awarded the Membership of the Order of Australia, first Ron in 2003 and Valerie in 2010.
Ron and Valerie Taylor in their Sydney home, 2009
Though Ron Taylor is no longer with us, his work will forever be remembered and treasured. One of the 'gods of the sharks' will be up in the sky looking out for sharks across the globe while people down on Earth will continue to protect the marine ecosystem, inspired by the legacy that Ron Taylor left behind.
read more: Guardian