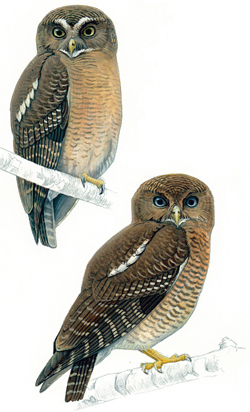 Top: Cebu Hawk-Owl
Bottom: Camiguin Hawk-Owl
Analysis of calls from owls in the Phillipines revealed two new species of owls: The Cebu hawk-owl (
Ninox rumseyi)
and the Camiguin hawk-owl
(Ninox leventisi). It was previously thought that both species were subspecies of the Phillipine hawk-owl (Ninox phillippensis).Both newly described species are found in restricted habitats. The Camiguin hawk-owl is only found in the island of Camiguin Sur. The Cebu hawk-owl was thought to be extinct due to deforestation on the island of Cebu.
The discovery of the Cebu hawk-owl is one of the 3 endemic bird species found in this island and this owl species is believed to be endangered. The other two endemic species are

song bird Black Shama or siloy (Copsychus cebuensis) and the Cebu Flowerpecker (Dicaeum quadricolor).